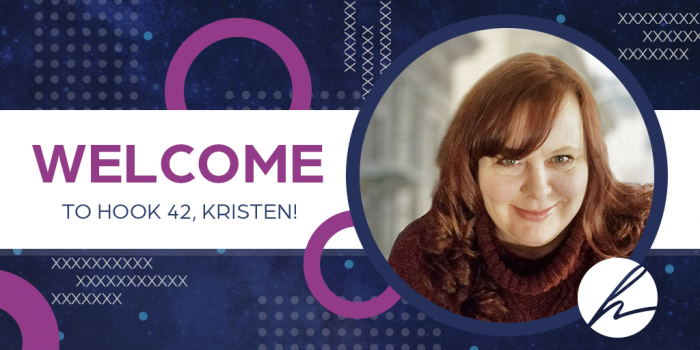 Hook 42 is excited to be adding Kristen Littlefield to our growing team. As a Project Manager,  Kristen will be focused on doing project management for our team. Kristen's past history working with large scale redesigns, accessibility, and process improvement is a great addition to the group. We understand being the new person is a little awkward at first, so to break the ice we had Kristen answer a few fun questions. Here's what Kristen had to say.
Where are you originally from, and where do you live now?
I am originally from Rochester, NH and I currently live here. I have only lived in two towns, both in New Hampshire.
Where is your favorite place you traveled to?
I've traveled a lot (I used to travel for work on a weekly basis) but I'd have to say my absolute favorite is Key West. The laid back atmosphere is a nice break from reality. 
We're slack-a-holics, so we've gotta know, what are your last three most frequently used emojis?
:wink: 😉
:slightly_smiling_face: 🙂
:smile: 😀
What is your favorite snack?
I guess it depends on the day, but I love almonds… specifically smokehouse almonds.  I'm also a huge fan of cheese of any kind. My absolute favorite cheese to have with crackers or pepperoni/salami is Cabot Private Stock Extra Sharp Cheddar. 
What inspires you?
Good writing inspires me… I'm amazed when a writer can transport me to different locations and make me totally engrossed in their world. I'm also a big fan of art (it was my goal in life to go to art school… circumstances changed that) and I am amazed and inspired by painting. I love it when a painting can invoke specific emotions out of you or when you're driving down the road in everyday life, you can see a scene that might remind you of a painting you saw once. One of my favorites is Renoir… I would love to insert myself into one of his paintings.  
What's an interesting fact about you that people wouldn't guess?
I was in a breakdancing group called "Streetmasters" when I was 12. We went around to elementary schools and taught kids how to breakdance. Please don't ask me to do a backspin, I don't think I could do it. 
What song do you have on repeat right now?
I listen to so many different kinds of music, but lately, there have been a few songs on repeat. I've been listening to Lover by Taylor Swift, Good as Hell by Lizzo and Circles by Post Malone. Yeah - I love pop music… I also get in moods where I listen to nothing but Motown though. Fun fact, I took my oldest son to see Elton John in November 2019 and it was such an amazing experience. He now has a record player and is listening to my old records. 
What's your favorite safe for work meme?
Anything "The Office" related. Particularly Michael Scott's facial expressions.