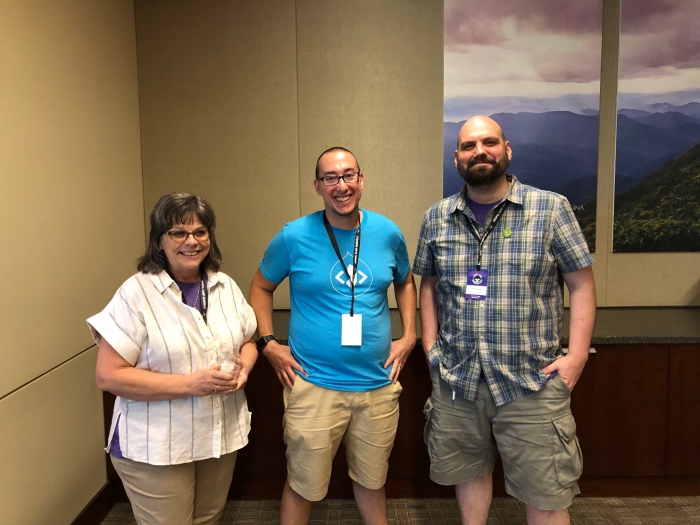 We've recently wrapped up another great Drupal event, at Drupal Camp Asheville. The sponsorship our team provided, in conjunction with the support of many others, helped the camp achieve many goals that we are proud to have been a part of. 
The experiences our team had stood up to the expectations of all Drupal events. From Hook 42, we had three people who were able to participate this year, and each member of our team had different expectations going in, and learned many valuable things. Here's what they have to say.
Danita's Experience
Although it was only my second year of attending Drupal Camp Asheville, it already feels like "home." One of the highlights of any Drupal camp or con or meetup is getting to see old friends and meeting new ones. As expected, this camp doesn't disappoint on that front. An added bonus was getting to hang out with two Hook 42 colleagues (including Jonathan, one of the camp organizers), something that doesn't happen often enough with a remote team.
On Friday, I joined a fairly packed room for a full-day training on CSS Grid and Flexbox with Wes Ruvalcaba, Senior Front-end Developer at Lullabot. Along with how to use Grid and Flexbox, Wes shared some tips and tricks he uses when theming Drupal websites. Even though I've used both Grid and Flexbox before, I came away from that all-day training with a better understanding of when and how they are "supposed" to be used - and to quit using "floats" for layout!
Sessions I attended on Saturday included one on contributing back to Drupal presented by Amy June Hinelline, Kanopi's Community Ambassador. It was a good reminder that anyone (not just super-experienced coders) can do something to contribute and that our contributions make the community stronger.
In addition to the trainings and sessions and "hallway track" conversations, the social events and just the location of the camp in Asheville make this a not-to miss camp. I know I can't wait until next year. 
Jonathan Experience
Another great year at Drupal Camp Asheville. On Thursday we all gathered to play games and hangout at the Wedge. Friday I gave my full-day "Essential Drupal 8 Developer Training", and it went really well. I had a full class with lots of great questions and comments, and like last year, my voice started to give out. I didn't record the training this year, but it was basically the same as 2018. Videos, slides, and code examples for the training are all available online.
Saturday we had an amazing group of presenters show off some of their best work and discuss topics they are passionate about. As an organizer, we made a lot of effort ensuring that there were great sessions for almost any topic related to Drupal or Drupal adjacent. We had everything from improving client interactions to an overview of the JSON:API, from understanding Drupal 8's caching mechanisms to a discussion of emotional labor in communities, and from working effectively as a remote team to data analysis and visualization.
All sessions were recorded and uploaded to YouTube. If you missed any while you were there, or are just interested in a recap, the full playlist can be found by going to Drupal Camp Asheville 2019 sessions.
As an attendee, it was really great to see the old guard and meet some of the new. I had a great chat with a new Drupal developer who is implementing a chat bot for his university, enjoyed tacos and beverages with the creators of Backdrop CMS, and talked about video games with friends as we hiked up to Catawba Falls. It'd be difficult to list each great interaction I had because there were good people and fun conversations happening the whole time. 
Biased opinion: I can't recommend Drupal Camp Asheville enough. Thanks to all the hard work by our Director April Sides, the camp is well managed and a wonderful, casual, and considerate event for everyone. Hope to see you there next year!