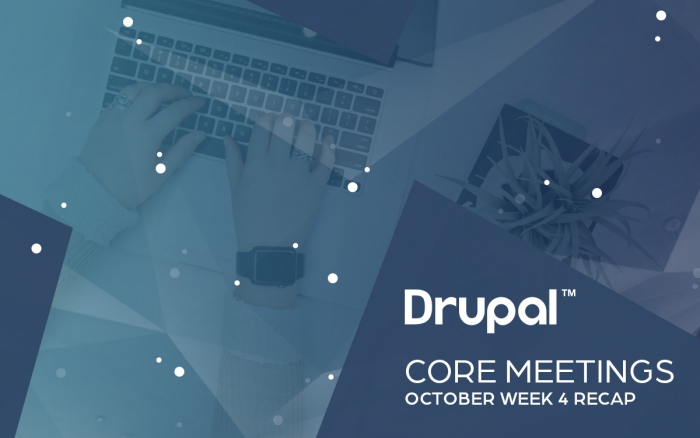 As our team continues to contribute to the Drupal community, we've been attending a variety of Drupal Core meetings. After each meeting we put together an overview or recap of key talking points from each discussion, or provide recaps given after the meeting to have all in one place. This article breaks down highlights from meetings this past week.
You'll find that the meetings, while also providing updates of completed tasks, are also conversations looking for community member involvement. There are many moving pieces as things are getting ramped up for Drupal 9, so if you see something you think you can provide assistance on, we encourage you to get involved.
Drupal Usability Meeting 
October 22, 2019
Meetings are for anyone interested in usability and accessibility. Since these are two of the Drupal core gates, initiative leads often attend these meetings to request reviews of their current issues.
Meetings take place on Tuesdays at 19:30 UTC.
Meetings are held using Zoom. A link is posted to the #ux channel in the Drupal Slack account.
Recordings are available on YouTube. Recent meetings use the standard format "Drupal Usability Meeting YYYY-MM-DD" to make them easier to find.
This week, we discussed just one issue, familiar from the meeting two weeks ago:
The good news is that Jennifer Hodgdon and our own Benji Fisher have already done a lot to improve that problematic Select list. The bad news is that the original problem described in the issue title still seems to have no good solution. Here is part of the comment that Angie Byron posted to summarize the meeting:
Benji's demo was great; he showed how the current select list is a complete CF with multiple problems, and also shows how the current patch vastly improves upon it, in several ways:
The default "Sort" list is, ironically, unsorted. LOL. So fields are in whatever order, and good luck to you trying to find what you need, even if it's not one of these more ambiguously named fields. This issue instead puts them into alphabetical order, and even accounts for post-translation labels. Wonderful. Thank you to Jennifer for working on this.
The patch makes it so the "Sort" drop-down doesn't show up until you've selected one or more content types to reference. Awesome! This is a core UX concept called progressive disclosure, where you hide complexity until the point at which you actually need it. Great stuff. Thank you to Benji for working on this.
EVEN MORE AWESOME, the patch limits the choices in the select list to only fields that are attached to the selected content types. So you cannot sort by "Vendor SKU" in a situation where you've selected "Article" and "Recipe" to reference, but not "Vendor." AMAZING. A+++ would select again. Thank you to Benji for working on this.
Migration Meeting
October 17, 2019
This meeting:
Is for core migrate maintainers and developers and anybody else in the community with an interest in migrations
Usually happens every Thursday and alternates between 1400 and 2100 UTC.
Is done over chat.
Happens in threads, which you can follow to be notified of new replies even if you don't comment in the thread. You may also join the meeting later and participate asynchronously!
We reviewed the following issues:
Angie Byron mentioned that she and Gabor have Tweeted about multilingual migrations, looking for real-world testing. You can view the tweets and respond accordingly here.
We noticed that there are currently 8 issues marked RTBC that have been waiting 1 to 7 weeks.
Out of the Box Initiative Meeting 
October 22, 2019
Keith Jay made great quality video, and he's going to add it to issue later this week.
Ofer Shaal was helping to get things ready for Drupal 9. Figured out Drush 11 is required for Drupal 9.  Also, he made some changes for Allow embedding media in CKEditor in Umami. That patch Needs Review.
Keith Jay, Mark Conroy, and Ofer Shaal were working on reviewing issues: Configure Umami to use Layout Builder to deliver original recipe content type designs and Fix Umami's responsive layout styles using DIFFY.