Every year at DrupalCon our team has an amazing time. This year was no different. We rounded up everyone who attended and asked them about their favorites this year.
Technical information was being readily exchanged and processed, while the humans who make up the community shared many stories as well. On top of all of the good information there was good food, so much food!
Session / BoF / Training / Track / Summit:
Aimee: The Business Summit had a great turnout and fantastic contribuors. I enjoyed hearing about the state and direction of Drupal in the Driesnote, the Dries Q&A, and Gábor Hojtsy's review on the Drupal core innovation cycles.
AmyJune: I enjoyed participating in the Mentored Sprints... I love contributing to the Drupal project and I enjoy empowering others to do the same even more!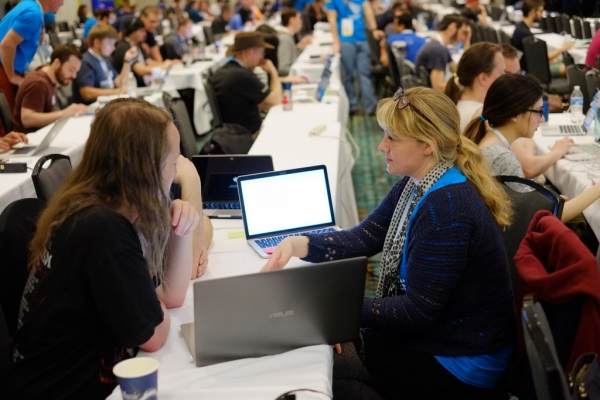 Photo credit: Amazee Labs
Carie: Hot JAMS(tack): Building a Music Discovery App with Drupal and React by Brian Perry was my favorite presentation of the Con due to the integration with components and React.
Chris: Surprisingly, various tools (Devops and otherwise). Along with some of the ancillary technologies and decoupled stuff.
Dan: The theme for me this year was DevOps, as always. Anything I can learn about DevOps is always interesting to me. It's probably my favorite topic to talk and learn about. I went to a handful of DevOps sessions and learned a lot about how we can incorporate a more consistent DevOps workflow into our projects. Everyone on the team is part of the DevOps team. Communicate communicate communicate! In order for all of us to incorporate a good DevOps system of tools/workflows, etc., we need to communicate what we are doing, plans, etc. Drupal Coffee BoF was nice. I talked with some people who I've never met in person but have been interacting with on Twitter for a long time, as well as some people I've never met or talked to before. 
Darryl: I took the ReactJS training, and along with that, I took in a couple sessions having to do with decoupling. Actually, much of the React training wasn't really about decoupling, but rather how to attach React to Drupal's output, as an introduction. I went to a couple of sessions on the Layout Initiative and Layout Builder, as these seem to be where Drupal is headed. I also went to the I Was Wrong session, which was very interesting, and a very brave thing for the presenters.
Genevieve: I didn't make it to as many sessions this year as I have in the past; I did enjoy the  "I Was Wrong" session though. It was great to hear a variety of stories on ways in which people may have faltered and recovered in the past.
John: The two things that made me the happiest were: 1) seeing entries in the "Being Human" category, and 2) I knew a number of people who were presenting at DrupalCon for the first time and rocked it. With the latter, I am obviously heavily biased in the matter, but, hey… What are you going to do about it?
Kristen: I enjoyed all the Core Conversations and how we are trying to make Drupal easier for content editors, for site builders, and for developers.
Oliver: I was introduced to a couple of new things to put into the accessibility toolbelt, including an audit tool that is a bookmarklet (as opposed to an extension), which creates a pop-up on the page you're currently on.
Ryan: I'm getting really excited about the movement happening with GraphQL in Drupal – talks like "Push vs. Pull: GraphQL in Twig" are showing off some interesting ways that GraphQL might even be a suitable alternative to conventional render arrays. I think the implications for decoupled Drupal as well as component-driven conventional Drupal sites are really interesting!
Social Events:
Adam: I loved the Pantheon party and the Amazee party. I really liked the restaurants there and small convos had.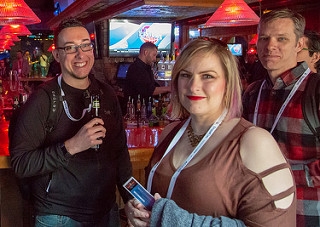 Photo credit: Susanne Coates
Aimee: I'm not supposed to say I was super excited to hang out with the Hook 42 team, but since we are all remote, it is a great opportunity to come together. Dancing and yoga-flash-mobbing in the basement room of the Pantheon / Lullabot party was hilarious and entertaining - for us and everyone watching. :D Genevieve, Kristen, and Greg Anderson: thank you for an excellent evening! 
AmyJune: The parties are always fun. I really enjoy reconnecting with folks from previous Cons and building stronger relationships. I enjoyed the game nights more than anything; unlike the parties, they provided a quiet atmosphere, which is much appreciated by mid-week!
Carie: All the social events were fun and the food and music in Nashville were amazing.
Chris: Plenty of good restaurants where it wasn't too loud to talk, hanging out with new people and not being stuck in some dangerous part of town :)
Dan: Of course, any chance to hang with our team is fun. The Amazee party was great. I loved the tour of the Country Music Hall of Fame, as well as the food at Martin's BBQ. I'm not a social butterfly but I did enjoy the Pantheon/Lullabot party as well, even though I mostly socialized with the Hook 42 team. I also enjoyed all the board games with John and David Needham from Pantheon.
Darryl: The Pantheon/Lullabot Party was fun, but perhaps too crowded for me. I really enjoyed the Amazee Labs party - a tour through the Country Music Museum and then what is reputed to be some of the best BBQ in Nashville.
Genevieve: I think each social event had its own special moment that made it a lot of fun. I do have to say, leading some yoga on the dance floor at the Pantheon/Lullabot party was pretty great! Thanks to handful of people who joined :) In general it is always fun to catch up with the team and see friends that we only get to see at DrupalCon.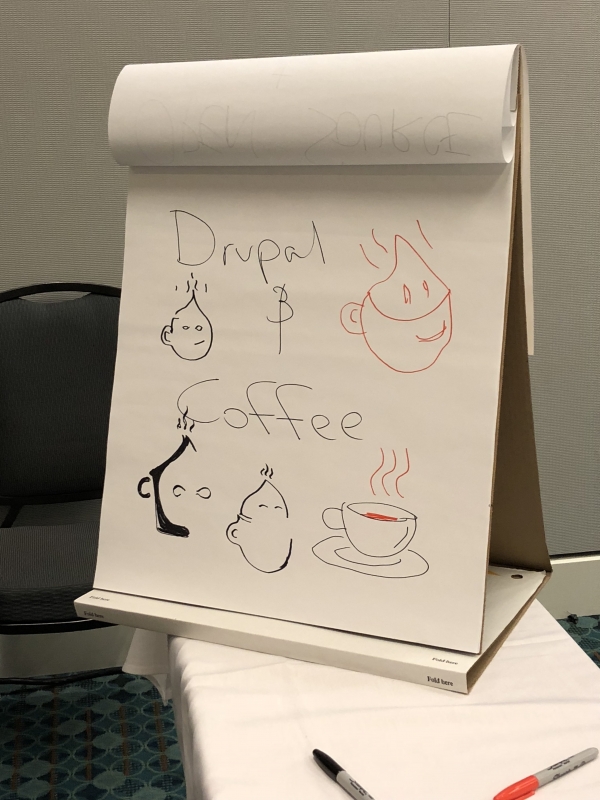 Photo Credit: Daniel Rose
John: I went out three times for Hot Chicken, partook in two Official Board Game Nights, attended a Pantheon Partner Dinner and Women in Drupal both for the first time, and went to a Partridge in a Pear Tree. However, I probably had the most fun doing Impromptu Game Nights with friends and team members. And I'll forever cherish the memory of scoring a Perfect Victory over Ryan in Street Fighter II and hold it near and dear to my heart, right next to the memory of him completely schooling me in every Pinball Game known to mankind. That kid sure plays a mean pinball!
Kristen: The Country Music Museum was interesting… so many gold records!
Oliver: The bingo cards at the Women in Drupal event were underrated. They got me talking to a lot of people I wouldn't have otherwise interacted with.
Ryan: The Pantheon/Lullabot party was a great time. Otherwise, I loved all the great food but feel like I've progressed my Type-2-Diabetes Doomsday Clock six hours in one week!
Conversation:
Adam: Too many to count. They were all good.
Aimee: Lots of conversations about coffee, food, and music. Great to touch base with the Drupal community and meet new people in addition to connecting with old friends. And talks about layout... lots of layout talks... and security patches...
AmyJune: I found myself discussing compost a lot over the course of the week. Though they weren't necessarily my favorite conversations, they were definitely the most interesting.
Carie: Lots of great convos with old Drupal friends and met a lot of new people as well. Chatting with the accessibility team is always the highlight for me.
Chris: Plenty of great chats about mentoring for next year, simplytest.me and other complexities of the Drupal world with Adam, and the scary world of games with John, amongst many others.
Dan: To echo what Genevieve said, I didn't have a favorite conversation. I enjoyed the many different conversations with lots of people from wandering in the exhibit hall to mentoring, training, Drupal Coffee BoF, etc.
Darryl: Lots of talk with the team I only ever interact with by typing on Slack. I also had a nice chat with Murray from Australia, while we were waiting to board the flight from SFO to BNA. He came halfway around the world to give a session on the Bricks module, a simpler way to get similar functionality to Paragraphs.
Genevieve: I don't think I have a favorite conversation, but much conversation was had :) John may have a winner though!
John: If you could qualify an interaction with Genevieve that was an attempt to close a card game and ended with me literally rolling on the floor laughing as a conversation, then that was the best conversation. Also, shenanigans that happen after midnight are much, much funnier and amusing to a brain that is barely operational because it's after midnight.
Kristen: I had a lot of fun talking with the Lingotek folks at the Acquia party. They are good people.
Oliver: I liked being prompted to converse by the bingo cards at the Women in Drupal event.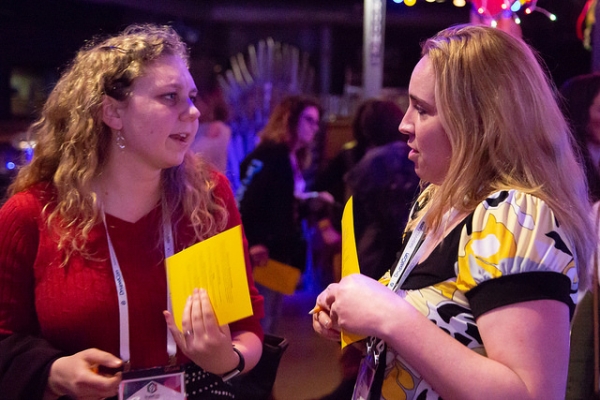 Photo Credit: Susanne Coates
Ryan: Maybe I'm just partial to the Hook 42 team, but some of my best conversations of DrupalCon were with folks on our own team. You guys are a riot!
Booth / SWAG:
Adam: The Life Aquatic shirts/hats from Lullabot were amazing. Loved the soft shirts from Linode.
Aimee: Four Chickens, without a doubt. I love me some Four Kittens, Four Chickens, and Four Kitchens. I missed out on the Drupal drop Pink Floyd prism from the DA. I'm on the hunt for one for Lindsay, who didn't attend DrupalCon this year.
AmyJune: I ended up taking mostly notepads from booths. In this digital age, it is always refreshing to go back to the basics by actually writing things down.
Carie: Lullabot shirts and hats were great. I always love the stuffed Digital Echidnas.
Chris: Life robotic shirts were great, also the Acquia one, a nice glass water bottle from FFW, also their combo usb cord, plenty of great stickers, usb power pack, many more things.
Dan: Lets see.. I got shirts from Pantheon, Linode, Hook42 :), Lullabot, Drupal Association. I got some stickers from many booths and as always I made an appearance every day at the Digital Echidna booth to play some hockey. I now own 2 echidnas and 2 Drupal drops. Someday I need to win that Drupal hockey jersey!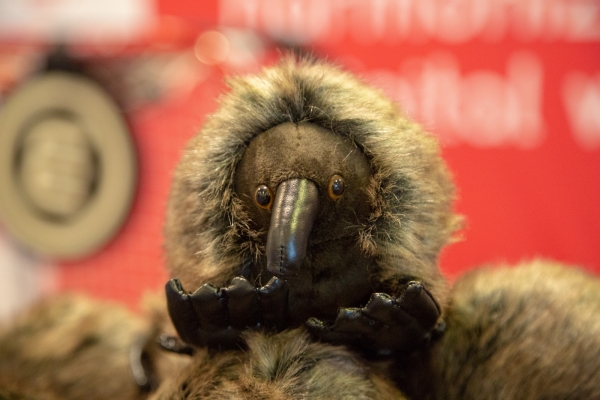 Photo Credit: Susanne Coates
Darryl: I got another yo-yo from JetBrains - the one from last year is still working, but the one from the year before gave up the ghost a while back, so having a spare is probably a good idea. (I gave up on T-shirts and hoodies years ago, I've probably donated >500 to Goodwill over the course of my career, and my collection is growing again in spite of not taking any as swag.)
Genevieve: I think the yo-yos from JetBrains win - but mostly because Darryl & Ryan taught me how to finally actually kind of use a yo-yo beyond just the basic skill of getting the yo-yo to return to you. :)
John: I actually have been actively trying to NOT get SWAG at Camps and Cons in an attempt to not clutter up the house, with the exception of the Obligatory T-Shirt from Event Being Attended. That being said, I walked away with two more T-Shirts than I expected: one from being a Sprint Mentor and the other a Drupal 8 Pac-Man shirt that I got in honor of Dan, who wasn't able to get one in his size for himself.
Kristen: My teenage son really likes the Life Aquatic shirt. Some booths had earbuds which is also a great idea for people with teens.
Oliver: I'm keeping that 3.5" floppy (the Lullabot Party invite) I got until I can pop it into a computer and see what's actually on it.

Photo credit: Jeff Geerling
Ryan: Yo-yos! I had a miniature (okay, maybe not so miniature) nostalgia trip playing with my JetBrains yo-yo for a day (okay, maybe I played with it for several days). I also re-stickered my laptop with some new and cool stickers – the ones from Siteground in particular were really fun.
Nashville:
Adam: I liked that it was walkable and there were many amenities close by. The hotel was great. The area was fun, even though I'm not a country music fan. The venue was good (slightly confusing to navigate).
Aimee: The neon. The sparkles - everything is Bedazzled. The music. The walkability. The food - SO MUCH BBQ. Nom. 
AmyJune: I loved all the music coming from every door we passed. Being a vegetarian was a little challenging at times, but there was plenty of beer to satiate my appetite! 
Carie: I am also not a country music fan, but there was enough to do outside of that to keep you busy...including shopping for cowboy boots ;)
Dan: Nashville was great. Everything that we needed was within walking distance. I wished I could've made it to the hockey game which was right next door. The food was fantastic. Favorite restaurants were Puckett's and Martin's BBQ. Country Music Hall of Fame was pretty interesting as well. Also bought a nice cowboy hat. Will definitely go back to Nashville again.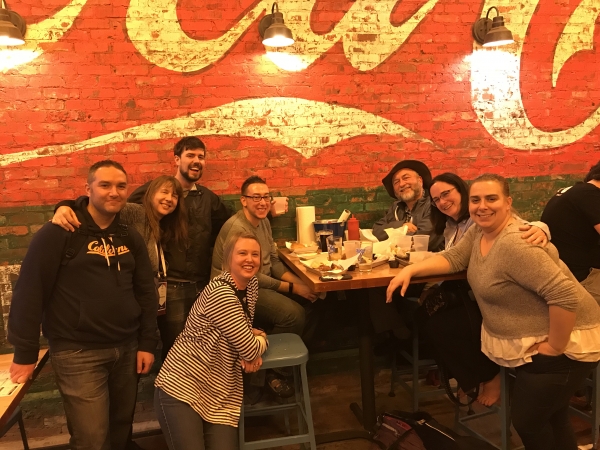 Photo Credit: Carie Fisher
Darryl: Nashville was fun - I regret all those times I drove by on I-40!
Genevieve: It was fun to get to see Nashville in a month other than January. All the past times I've been it has been very cold so there has been a bit less walking around. It was also nice that there were a lot of food and entertainment options nearby. 
John: Having so many things within walking distance of the venue was awesome. It was also really fun having those Random "Music Boxes" on what seemed like every other street corner blaring out tunes; it helped to really drive home that Music City feel.
Kristen: Everything seemed really close and easy to get too and I had some good BBQ at Martin's. It was actually a lot more modern than I expected… lots of modern-style buildings.
Oliver: At night, the downtown was like a mini-Vegas, except with boot stores instead of casinos.
Ryan: So. Much. Food. I'd never had an opportunity to go to Nashville, so it was really fun to see the city despite the fact that we brought 40-degree temperatures with us those first few days. The amount of live music in the city was amazing!
Overall:
Adam: A very great experience that made me feel closer to the community and the team. I really enjoyed it.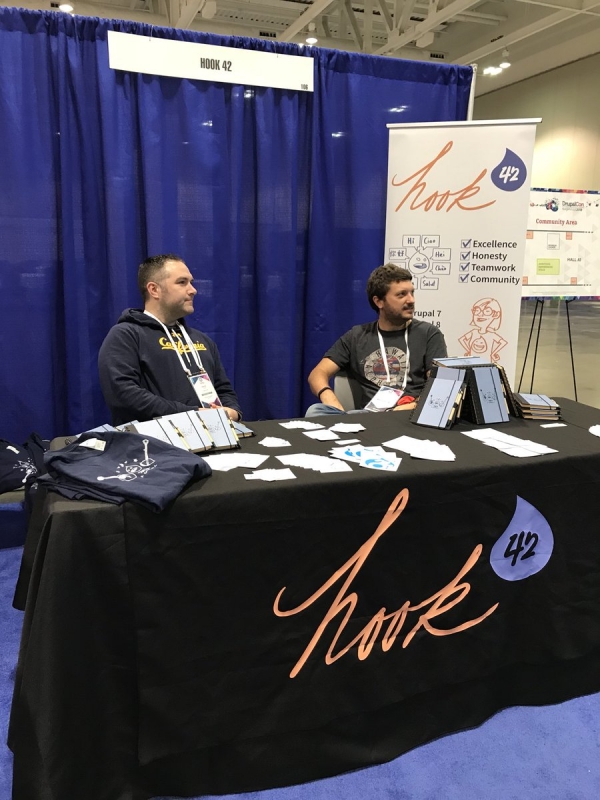 Photo credit: Carie Fisher
Aimee: Every DCon is a bit different. It was great meeting contrib maintainers that I've seen online for years and just met in person. It is exciting to see where Drupal and the community is heading! 
AmyJune: Of course, the community is my favorite aspect of every Drupal event. I love meeting the maintainers of projects I have contributed to and discussing further collaboration.
Carie: It was a good DCon. Every year seems better and better, but that could be because I know more people each year, so more like visiting with friends instead of just meeting strangers.
Dan: DrupalCons and camps are always a great experience for me. It's nice to connect with others from around the world in the Drupal community. Of course, it's always great to see our team members in person as well. This DrupalCon was fun because I felt more connected with others in the community. There were a lot of people that knew me or at least knew my name from my contributions and interactions, etc. That was a neat feeling.
Darryl: Our company is basically all remote, even the Bay Area locals mostly work from home, so getting to see everyone and chat is great!
Genevieve: As with every other year, I think my overall favorite thing usually ends up seeing all the team members we don't get to see during the rest of the year. We had some newer team members with us this year, so that was also extra enjoyable to have some new perspectives (and lots of board games… thanks to John) with us. 
John: At this point, every DrupalCon for me is more like a Family Reunion, with the greatest pleasure coming from reconnecting with old friends and getting the chance to interact with team members in-person, especially since we're practically all remote. It's always fun making new connections as well, and I was pleasantly surprised to talk to so many people who were new to Drupal (as recent as March!) and loving what they've been exposed to so far.
Kristen: The people are always the favorite part… both seeing everyone from our remote team to lots of people from the community from all over the world. Also, I think Core Conversations was an awesome track this year. :)
Oliver: It was great getting to meet some team members in person for the first time and see others again for the first time since BADCamp. Getting to interact in person definitely has a different vibe than collaborating remotely. It was a really great experience.
Ryan: This was my first DrupalCon ever, so I was incredibly excited about finally being able to attend, and it was nothing short of my expectations! I learned a ton, had great conversations, and really enjoyed seeing so many Drupalers in one place at the same time :)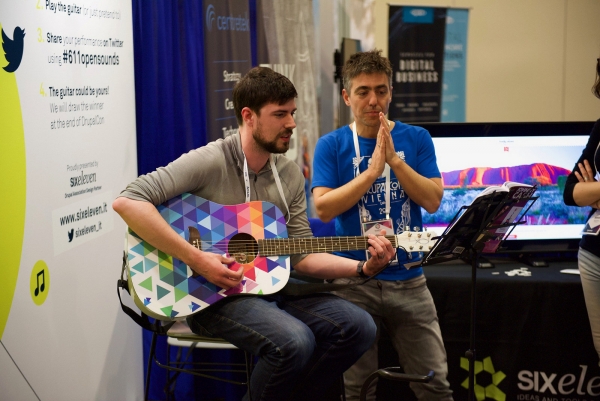 Photo Credit: Jeff Geerling
See everyone soon!
We're looking forward to seeing everyone again at BADCamp in the fall... Seattle next year... and in Minneapolis in 2020! In the meantime, keep contributing, keep building community, and keep moving the Drupal project forward!