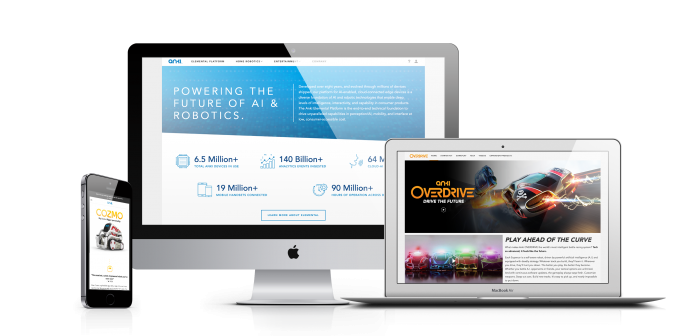 Anki is a fast-paced developer of consumer robotics based on decades of scientific research into making artificial intelligence accessible to everyone. Anki's Overdrive product combines easy-setup tracks with robotic supercars to deliver a racing experience that feels like magic. Using mobile devices as controllers, Anki is able to enhance gameplay with web-based scorecards and car capability software upgrades.
---
Design Direction
Mobile and tablet-optimized designs that are scalable to desktop.
Marketing Direction
Sales optimization via Optimizely A/B testing and Magento promotions.
Key Features
Sales-Driven Promotions, Cross-Organization Management, Parallel Development, Process Optimization
Summary of Work
Hook 42 contributed to the management and development of the web site for the release of Anki's new Cozmo interactive "personality" robot. Process optimization for parallel development was needed to deliver the web experience with integrated marketing promotions and Marketo sales tools.
Hook 42 collaborated with Web Delivery, Information Technology, Analytics, Sales, and Product teams to bring everything together on time for the fast-approaching holiday delivery. While working to deliver for the 2016 holiday, Hook 42 contributed to planning a complete technology revamp for holiday 2017.