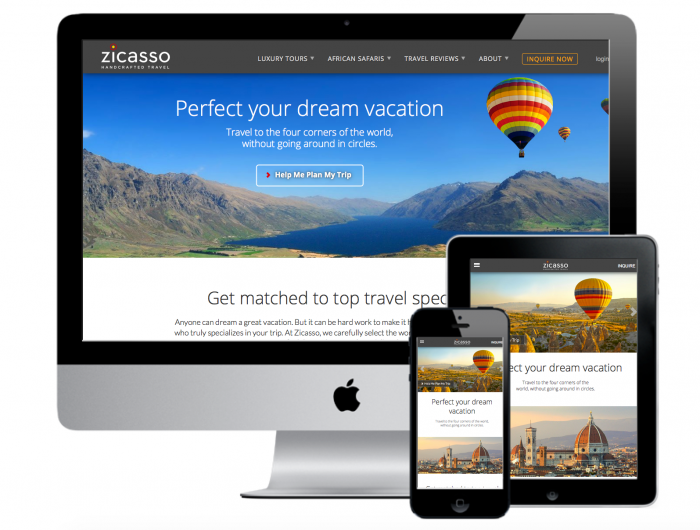 We redesigned the Zicasso.com site from scratch to make it more visually appealing and easier for travelers, travel agents, and administrators to use. Zicasso.com received considerable positive press and user comments after the new site launch. Information about the redesign project is available in the Drupal.org case study.
Newsworthy Design
We collaborate with Zicasso to design and develop beautiful and newsworthy user experiences. Zicasso has been featured in The New York Times, Fortune, Travel+Leisure, and many other leading media publications.
Responsive Theming
We craft responsive web pages for Zicasso users to enjoy on their smartphones and tablets.
Content Strategy
We architect Drupal content structures that allow the Zicasso team to reuse pieces of content in smart ways.
Enterprise Drupal Development
We work closely with the Zicasso business team to engineer Enterprise-level tools for streamlined administration and messaging workflows. We continually strive for supporting high performance and reliability, upholding Drupal best practices, and increasing quality assurance.
Digital Asset Management
We enable the Zicasso content team to efficiently leverage thousands of stunning travel photographs by providing customized media tools. We support gigabytes of file attachments for a streamlined messaging workflow.
SEO
We work together with Zicasso's savvy marketing team to optimize the site's web pages for top organic search rankings and provide customized analytics tools for evaluating conversions.
Drupal Migration
We migrated Zicasso's "million node" Drupal 5 website to Drupal 7 as part of a complete site redesign and rearchitecture. Learn about the great migration in the Pantheon + Hook 42 case study.