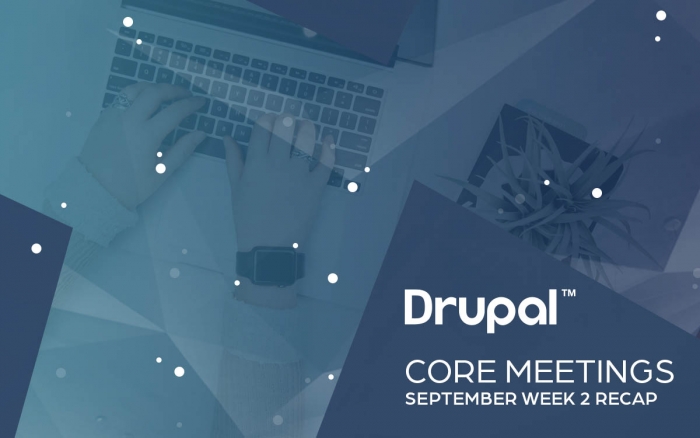 Our lead community developer, Alona Oneill, has been sitting in on the latest Drupal Core Initiative meetings and putting together meeting recaps outlining key talking points from each discussion. This article breaks down highlights from meetings this past week.
You'll find that the meetings, while also providing updates of completed tasks, are also conversations looking for community member involvement. There are many moving pieces as things are getting ramped up for Drupal 9, so if you see something you think you can provide assistance on, we encourage you to get involved.
Getting Involved Guide Refresh Meeting
September 10, 2019
This meeting:
Usually happens on alternate Tuesdays

is text only!

happens in threads, which you can follow to be notified of new replies even if you don't comment in the thread. You may also join the meeting later and participate asynchronously!

has a public agenda issue anyone can add to.

Meeting transcripts are still a work in progress, but please comment on the meeting agenda issue so we can grant you credit for attending/contributing!
Issues & Progress
Personas
Out of the Box Initiative Meeting
September 10, 2019
Keith Jay and Ofer Shaal talked about Use Media images in Umami demo issue, since Media is very close to becoming stable. Umami team is working hard to prepare Umami to support it.
New recipe is coming up!
The Umami team is discussing adding new recipe content with the help of Anna Christoforou, who has very kindly allowed us to use some of her recipes. Take a look at Anna's Instagram page where you'll see some of her amazing food and images. Keith Jay is working with Anna to add her recipe for homemade hummus, currently being created as a patch for which there will be plenty of opportunity for anyone who wants to help with general reviews and translation into Spanish. Since this recipe is very simple and doesn't require any cooking time, it has been suggested that it could be the basis of a video that we'll produce to demonstrate media.