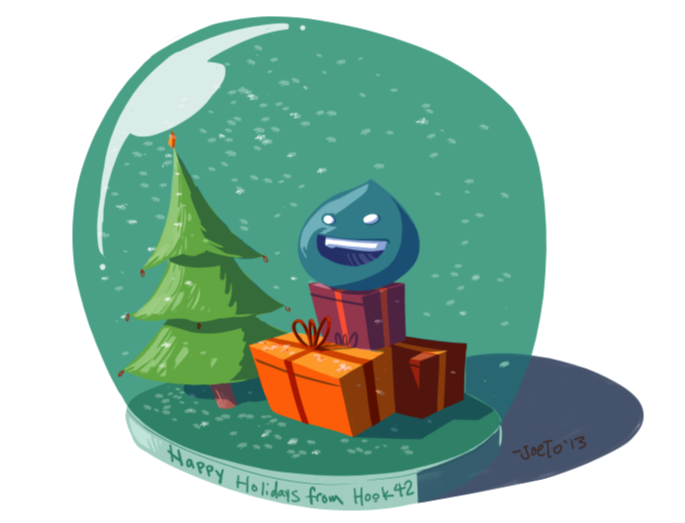 This is the first of many articles about why and how to give back to the community. The information can be used by individuals, agencies, and companies that want to increase their community contribution efforts. 
'Tis the season for giving. A time of giving thanks for the blessing of the harvest and of the preceding year. A time of light in the dark of winter; a season of reflection and thanks. I'd like to recognize the work and efforts of the Drupal Community and reflect on Hook 42's historic contributions; additionally, I'd like to share how we contribute and how you can contribute more. 
But why listen to Hook 42? We are not one of the largest Drupal agencies; however, Hook 42 was ranked 18th in the list of the global contributors by Dries. We also strategically shaped and sponsored the community efforts of one of the top 30 contributors to the project. 
Hook 42 has a fairly humble approach when sharing our community contributions data. We usually let our team's commit numbers, sessions, logos, and event organization speak for our continued dedication to the fostering the Drupal community. 
For full disclosure, Kristen Pol and Aimee Degnan (myself) are co-founders / owners of Hook 42, a full-service web development agency specializing in Drupal. We are based out of San Francisco and we have team members distributed across the United States.
Make a Commitment to Contribution
First of all, you must want to contribute. Everyone has different reasons to contribute and how you personally contribute is your own path. It is a deliberate decision that must be turned into action.
The first steps into contribution may be attending a Drupal users group, camp, or logging into Slack or IRC for support. At this point, you meet the community and learn how to further contribute. Hopefully, the Community has been inviting enough that you want to stay. :)
When Kristen and I started Hook 42, we chose "Contribute to Community" as one of our core values. This decision created the foundation for our culture of contribution. We both personally contributed to the project and community in different ways and found great value from giving back. All of our team members have the desire to contribute to community efforts; the passion and self-starting ability to contribute is vital.
Another one of our values, "Ongoing Education and Improvement", is a strong motivator for our contribution efforts. The Drupal project, and its supporting events, provide a fantastic opportunity for professional development. Coding, documentation, speaking, organization, and volunteerism; there are so many opportunities for growth that are beyond our client work or formal training classes.
I want to thank those organizations and individuals that have made community contributions a deliberate part of their work and life. We are not the only company to do so. We are not the only individuals to do so.
Invest in Contribution
Once you decide contribution is important, a real investment must be made. Contribution takes time. It takes skill. It takes practice. And it also takes money. 
A patch isn't going to write itself, test itself, or be committed back into the project itself. Documentation must be written and copy edited. Events need to be sponsored and organized.
Hook 42 sponsors 15% of the team's overall work hours to community contribution. Doing the math, 15% is roughly 4,000 - 4,500 hours of work per year donated to the Drupal community. That is time Hook 42 is not making a profit and is considered a completely operational cost. The work is performed within a normal 40 hour work week for our team members; another value of ours is "Strive for Work and Life Balance".
Our clients also sponsor contributions through the course of project work, session presentations, and case studies.
The 15% metric of sponsored community time does not include the amount of money spent for sponsorship, travel, or one-off support of community contributions like DUG dinners, code sprint snacks, and other community-focused spend. 
An individual's personal level of investment will probably be much different from a business. The personal investment may include patches, testing, sessions, and camp attendance but is often constrained by personal budget and time one is wanting to commit.
Personally, Kristen and I contribute differently. Both of us organize events, speak, attend conferences, work on core initiatives, and mentor individuals within the community and the team. I contribute less code because my role is more related to business topics (although I'm highly technical); whereas, Kristen's contributions are more commit and documentation related. This is just an example of how contribution profiles may differ.
From a business perspective, it is both of our jobs to provide a stable environment and work to provide our team members the opportunity to contribute. Consider us "Community Force Multipliers" that strategically align our team's work with community efforts while we, personally, do less of the commit-centric work.
Many of our team members, including Kristen and myself, contribute additional personal time on top of work-sponsored hours. Those that do are passionate about the community and are active in event organization, preparing sessions and trainings, and participating in sprints. Plus, Kristen and I have to keep the business running regardless of our personal community efforts. Someone has got to keep the lights on. 
I want to thank those organizations and individuals that have made the investment in the community. We are not the only company to do so. We are not the only individuals to do so.
Ongoing Commitment to Contribution
But why do Kristen and I choose to contribute so much to the community? Why do we keep contributing? The two of us drive Hook 42's budget and time invested in community efforts. Don't we want more profit or more money in our pockets?
As business owners, we believe that supporting the Drupal project and community ecosystem is an investment in our ongoing business. All people using Drupal must contribute - at their own ability level - to Drupal to keep the platform viable and supported. That contribution can be as easy as active use of the platform.
Improving Drupal isn't just about benefits to our company, or benefits to Drupal independent contractors, and other Drupal service providers. Improving Drupal benefits organizations using Drupal, so they can have confidence that their choice is a sound investment over time. Again, contribution as a business is not about us, it is about supporting people building their businesses on Drupal.
As people managers, the community ecosystem and the Drupal and Drupal-adjacent technologies provide a great environment for ongoing learning and professional development for our team. Kristen, myself, and Adam help our team members and others in the community find the best fit of work for their goals.
As individuals, honestly, we love the people and the community environment. One of our other company values is "Be Ethically and Morally Good". As good members of the community, we understand that our individual choices and actions can benefit the greater good of Drupal. 
But I have to admit, sometimes it is a challenge. For all who choose to contribute, you will also be more visible to a diverse, global group of individuals. You may receive criticism for your work or opinions that may not seem agreeable. Kristen and I have been told that the support we provide, both personally and through the business, is not enough. Perhaps without visibility to the actual data of our total contributions, others may not understand the amount of our personal investment in the project. Thankfully, that was an edge case and not the norm. Overall, most community members have provided positive feedback to our sponsorship efforts.
Why don't we just give up? How much more are we supposed to do? How much more are we supposed to give?
Honestly, constructive criticism and differing opinions make the product and the people improve. No one improves if they are unaware there is room for change.
We constantly renew our commitment to community because we love the people we work with. It brings us great joy to work with such creative and enthusiastic people.
I want to thank those organizations and individuals that recommit their efforts to the community, even after heavy public criticisms. We are not the only company to do so. We are not the only individuals to do so.
Season of Giving Beyond Drupal
I want to thank those organizations and individuals that provide donations to charities throughout the year at different community events. This type of altruistic approach to charitable donations represents the quality of the people in the Drupal community.
Hook 42 has donated to the following charitable organizations chosen by our team members. Some of the organizations were selected by multiple members:
Learn how you can be a top contributor in our next Community Post: The How-to Guide to Successful Contribution.