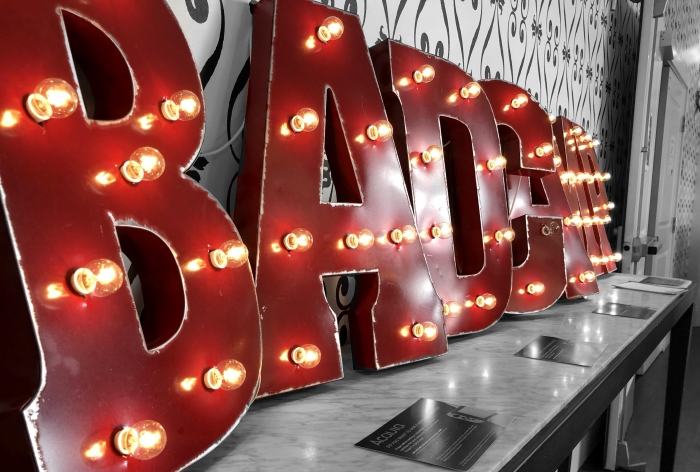 BADCamp has long been a staple Drupal camp for Hook 42. We've spent countless hours behind the scenes over the years making sure we can not only participate in the amazing group-effort that goes into planning an event of this magnitude, but also be present as a sponsor, speakers, and attendees.
As we were preparing for this year's BADCamp, we realized we had a variety of different expectations from everyone gathering in Berkeley. With team members coming from Alaska to Maryland, and everywhere in between, the possibilities BADCamp had to offer us were seemingly endless. We were gathering a group of first-timers and veterans, and even bringing on a new team member! Talk about diving right in!
With such high expectations going in, BADCamp 2019 certainly didn't disappoint. The number of friendly faces, engaging conversations, delicious meals, and activities in free time we partook in are some we'll never forget.
Before we take a moment to dive into the nitty-gritty of our experiences, we want to send a special thank you to the BADCamp organizers. The attention to detail from everyone involved was spectacular, allowing for a smooth camp and an overall enjoyable experience for all of us in attendance. Thank you for another great year. 
The Hook 42 team members that attended the event this year each had different personal and professional experiences to take home with them. Every person that attends a community event like this is bound to come away with something unique, and we want to give our team a chance to share with you exactly what made BADCamp 2019 so special to them.
Aimee
Co-Founder/CEO
BADCamp is one of my favorite events. I look forward to it every year. I'm biased because it's in the Bay Area, and because I've enjoyed being behind the scenes of the organization of the camp over the years. It never ceases to amaze me what a great group of people coming together with a good cause can do.
I led an accessibility training, but this time with a new partner, Lindsey. We were blown away by the engaging conversations sparked during our crash-course. Being an advocate for accessibility is important to me personally, and is also a fundamental value of Hook 42, being inclusive to everyone. Any way that our team can help continue the discussion, and shine light into areas that may seem confusing and overwhelming, we'll jump in head first to do it. 
Ryan Bateman and I were able to prepare a really fun discussion around building a sustainable product using Layout Builder and View Modes on Saturday. The end-product was a walkthrough, from start to finish, about what it takes to communicate needs and utilize the appropriate methodologies to create a product with minimal headaches. Together we made a great team of two different perspectives for a unified subject. The topic created a lively conversation.
Of course, there is always the side of BADCamp that doesn't require any real "work". The moments where I connect with those I haven't seen for a while, the moments where work becomes an echo and I become more engaged with my community. I feel close to my community here, and being able to enjoy everyone's company in such an inclusive environment really makes BADCamp a great event. I'm already thinking about BADCamp 2020!
Ryan
Architect
BADCamp! This is always one of my favorite conferences, and it was great to be back in the Bay Area again. As usual, the camp was incredibly well organized, the pinball was amazing, and the community came out in full force to get this event off the ground.
One of the most enjoyable parts of the camp for me was running my all-day training, "JAMStack-ify your Drupal 8 Site with GatsbyJS" - huge kudos to all of the attendees to that training for making our day exciting. It seemed like everyone had a great opportunity to learn tons about GatsbyJS, integrating JAMStack sites with Drupal, and we even came up with our own hypothetical Gatsby competitor, "Catsby"!
In terms of sessions, the most exciting thing for me personally was Greg Anderson's session regarding the composer initiative in core. As a devops devotee (🙏), proper composer support in Drupal core is near and dear to my heart. I'm incredibly excited to see what the future holds for Drupal as we upgrade our package management workflow to allow better core-sponsored support for workflows that allow us to reliably build, test, and deploy our sites on any platform. Huzzah!
Until next time, BADCamp!
Benji
Senior Developer
This is my second BADCamp and my first as part of Hook 42. More than that: this is my first week with the company. So for me, the most important part of the event was getting to know the rest of the team. We had a lot of hugs, a lot of laughs, and a little bit of celebrating our inner geeks.
I spent Wednesday in the contribution room. I helped AmyJune (@volkswagenchick) get some first-time contributors oriented on the Drupal issues queue, and I worked on a couple of core issues. (There is more I have to do on those.)
I spent most of Thursday assisting Ryan as he taught a packed room about Gatsby and how to set it up to pull content from a Drupal site. Ryan did a great job, and the class was enthusiastic and grateful. I was pretty comfortable with the material, since I read Ryan's blog post about a year ago, and used it in my own project, Lando Gatsby Drupal, which uses Lando to start up local Drupal and Gatsby sites. I may have a chance to lead a similar session at a future camp.
On Friday, I went to many sessions. I have learned a lot from Michael Hess, the lead of the Drupal security team, so I went to his session, "You are not a candle; don't burn out". He talked about the costs of multitasking, work in process (WIP), and technical debt. If you are constantly switching between projects, the amount of time you lose (according to research) is frightening.
On Friday, I also gave my own presentation, on using the Drupal 8 cache system. The audience was small but engaged, asking a lot of good questions.
There were only a few sessions on Saturday. I went to Amy and Ryan's session on view modes and Layout Builder and a couple of others. One described the Smart Content module (still in alpha), which aims to provide a framework for customizing a Drupal site for anonymous users based on whatever you can get from the browser and/or external services: IP address, time and date, cookies, and so on.
I have been using Lando for a while, but I decided to install DDev and give it a try, especially since Randy Fay was right there. So far, I see a few things to like about DDev, but I think a big advantage of Lando is the ease of adding additional services (like Solr or nodejs). I am still getting to know DDev, and I expect there are some big features that I have not yet discovered.
 
Lindsey
Senior UX Designer
This was my first time attending a BADCamp event. Before I dive into the things I experienced at the camp itself, I wanted to take a moment to say thank you to the organizers for putting their faith in me to help put together many of the materials that were used during the event. It was great to be able to help out behind the scenes in the best way I know how, through design. Once I arrived on-site, it was really awesome to see what I had created on-screen come to life. 
I also want to thank everyone for being accepting of my talk bringing together designers and developers. This was my second time giving this talk, and each time I get together in a room full of curious minds eager to learn more about my feelings on this topic, I also grow and learn how to shape the way I talk about it. I couldn't be more appreciative of the amount of discussion I receive after this talk. It is one of the greatest experiences I can have as a presenter, and I hope that those who attended my session found some clarity around what it takes to collaborate well with one another.
Lastly, a special thank you to Aimee for showing me the ropes of a full-day accessibility training. I'm glad to have been able to experience being at the front of the room for training and helping people understand a topic that I hold so close to my heart. As the topic of accessibility grows, I'm glad to now add more advocates to the mission of making everything inclusive. 
Beyond Drupal, I ate lots of delicious food with new faces every evening. Getting to know everybody is a staple of a conference like this and it always seems to happen with a great meal or a great activity that brings us all together. I had the pleasure of learning a few new games while I was there, and I'm glad to be leaving with more than just technical knowledge under my toolbelt.
Thank you BADCamp!
Kris
Office Manager
This is my first time attending BADCamp. I was excited because this is also my first event with Hook 42. I didn't know what to expect or what type of sessions they would offer for attendees, but I was excited nonetheless.
On my first day at BADCamp, I helped Aimee and Ryan set up our booth in the sponsor area. Several people stopped by our table and chatted over the course of the day and I got to meet a lot of people from the Drupal community. My favorite part, though, was getting to meet my teammates in person. When an event like BADCamp comes around that allows many of our team members to attend, it, in a way, becomes a Hook 42 reunion.
Over the course of four amazing days, I attended several sessions. I'm not quite as technical or computer-savvy as my teammates, but I still went to some sessions that encouraged harmony between body, mind, and work. A couple of sessions I attended were instructed by our hosts from Dharma College, where the attendees and I learned about meditation and how to calm ourselves in stressful situations. Meditation and focusing on breathing were key ingredients on how to relieve stress and better concentration on what your objectives are for the day. I've already started using some of the techniques the instructors suggested to keep my mind focused and calm for the day ahead.
A couple more sessions I attended were based on how to work remotely and to stay organized. Since this is also a new experience for me, I decided these sessions would be highly beneficial for a first-time remote worker. One tip included focusing on one task at a time. I have already noticed this struggle because I'll be working on one project and get asked to take care of something else, which distracts my thoughts and I end up forgetting to do many things on my list. This instructor suggested to keep a Bullet Journal and write down at the beginning of your day the tasks at hand. This will help me stay organized and focused on what projects are most important. One of the most memorable notes one instructor suggested was to get a dog. She suggested that getting a dog would separate you from work and home, giving you excuses to step away from your desk, taking the dog for a walk, and stretch your muscles after sitting at your desk all day. I already have a dog, but he mostly sleeps at my feet. So with these suggestions, I will be able to force myself to get up and stretch more often, and separate work and home life. 
In the end, I feel what I experienced at BADCamp will carry on with me throughout my career. Meeting so many great people in the community and getting to know my amazing teammates even better gave me more confidence in myself and makes me want to become an even better team member.
 
Did you miss something?
Don't forget that you can review all of the sessions from BADCamp 2019 on the BADCamp YouTube channel, as well as via Drupal TV. A huge shout-out to Kevin Thull for leading the charge on this effort. We're very glad we have a way to reflect back on our own talks, as well as hear ones we missed throughout the course of the week.